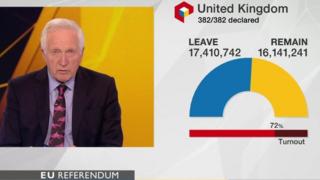 Watch the moment that EU referendum result was declared
Watch the moment the final result in the EU referendum is declared.
Adults across the UK have voted for the country to leave the club of countries called the European Union, or EU.
The final result was 17,410,742 for leave and 16,141,241 for remain.
That's about 52% for leave versus 48% for remain.
More than 30 million people voted in the referendum.