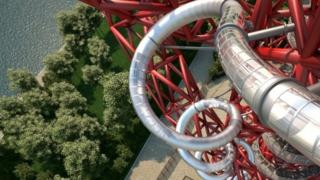 Going down 'world's longest' tunnel slide
The UK's tallest sculpture, the ArcelorMittal Orbit in London, has been transformed into something new - a gigantic slide!
The Orbit was originally built for the London 2012 Olympic Games, but has now been turned into one of the longest and tallest tunnel slides in the world.
Have a closer look a slide in picture here.
The slide takes riders around 40 seconds to reach the bottom, reaching speeds of up to 15 mph as the slide loops its way around the sculpture 12 times.
It's made up of 30 separate sections including a tight corkscrew section known as the "bettfeder", which is German for bedspring.
So we sent Ayshah to be one of the first people to have a go on it!