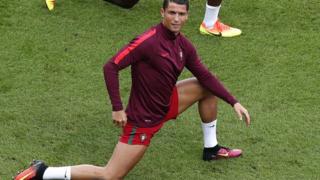 Ronaldo throws microphone into lake
Cristiano Ronaldo is not a big fan of the microphone it seems.
During a walk with his Portugal team mates he was asked a question by a journalist.
Ronaldo grabbed the journalist's mic and flung it into the lake in Lyon, France.
The three-time world player of the year, has failed to score from 22 opportunities in the two games.
Portugal enters the game in third place with only two points after drawing with Iceland and Austria so far in France.
Pictures courtesy: AP/CMTV