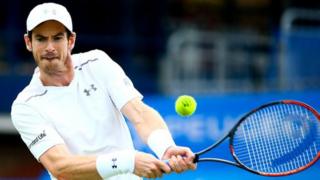 Getty Images
Andy Murray will face Canadian Milos Raonic in the Queen's Club final, after beating the former champion, Marin Cilic, in Saturday's semi-final.
Success in the final would see Murray take the title for a record fifth time.
That would mean he'd passed champions Boris Becker, Lleyton Hewitt, Andy Roddick, and Roy Emerson who have each won four times.
Murray faced stiff competition in the semi-final on Saturday, as Cilic edged ahead in the second set.
But the British number one finally swept him away with a great performance in the final set.
Now, Murray will have to overcome Milos Raonic's big serve in Sunday afternoon's final.