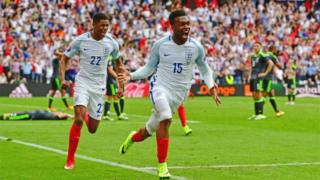 AlLSPORT/GETTY
England have triumphed over Wales in their match in the Euros.
The score was 2-1 to England.
Gareth Bale kicked off the goals for Wales with a free-kick before half-time.
However, England managed to beat them with two goals from Jamie Vardy and Daniel Sturridge.
Liverpool striker Sturridge netted the winning goal in the 91st minute of the game.
England are top of Group B and need a point against Slovakia on Monday to get into into the knockout stages.
Wales will now need to beat Russia to guarantee a top-two finish, but could also qualify with a different result.