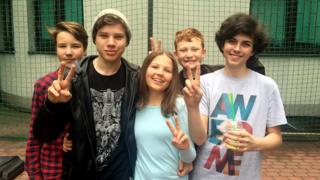 Polish kids on the UK and immigration
It's thought there are almost 800,000 people in the UK who've moved from Poland to live here. This is called immigration.
Poland and the UK are both in the European Union, or EU - a club of 28 nations that agree to make it easier to travel around, live and work in other EU countries.
Next Thursday, there's a huge vote on whether the UK should stay in, or leave, the EU.
One of the biggest talking points is what the decision will mean for immigration.
Ricky has travelled to Poland's capital city Warsaw to find out what children there think about the UK and the issue of immigration.