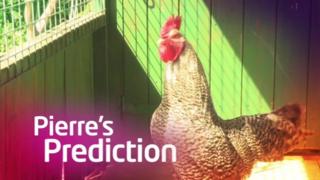 Pierre the Euros predicting cockerel - week two
It's time again to see which countries Pierre, Newsround's predicting cockerel, thinks will win this week's Euros matches.
Pierre is predicting the winner of the home nations' games at the tournament in France.
He has a choice of two foods - one for each country. The one he goes for is his predicted winner.
Why a cockerel? Well, the cockerel is the national symbol of France - just take a look at the crest on their shirts.
So without further a cock-a-doodle-do, let's see who he's choosing for week two...