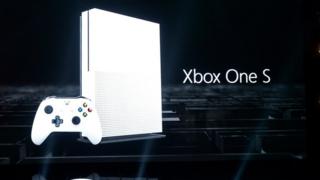 Two new Xbox consoles - what you need to know
Microsoft has announced two new Xbox consoles at the E3 gaming show in Los Angeles, America.
The first is a slimmer version of its Xbox One console, the Xbox One S, which will launch in August.
The second is Project Scorpio, which will offer virtual reality and 4K gaming, and will be released by Christmas 2017.
E3 is a huge gaming show that happens every year and it's where lots of tech companies announce their latest games and consoles.
BBC reporter Chris Foxx is at E3. He has what you need to know about the latest Xbox news...