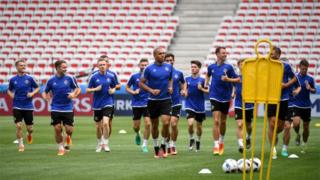 EPA
Northern Ireland will play their first game against Poland in the Euros today, and the team got a special pep talk from golf star Rory McIlroy.
He said: "Coming home as a major champion was one of the proudest moments of my career so far,"
"It's an honour to represent Northern Ireland around the world - and to put our wee country on the sporting map."
"Tomorrow you will write the next chapter in our long and famous sporting story."
"When you walk out at that stadium in Nice, take a moment to think about our sporting icons, what they achieved, and how this is your chance to take your place alongside them."
Northern Ireland might be first-timers at the Euros, but they currently have the longest unbeaten streak of any of the 24 competing nations competing.