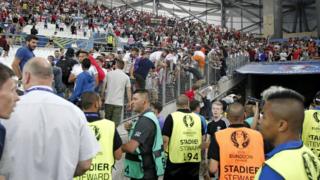 PA
The Euros have had a bumpy start this year, with some matches being overshadowed by fans fighting each other.
Most of the fighting took place at the Stade Velodrome on Saturday, during the England v Russia game.
People at the stadium said that the trouble began after Russian player Vasili Berezutski's goal near the end of the match.
Some Russian fans started setting off flares, and climbing over barriers into the England fans area, which are built to keep rival fans apart.
Uefa has now decided to take disciplinary action against the Russia Football Union for their fans' bad behaviour.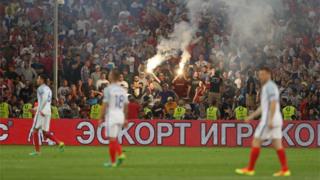 PA
European football's governing body said: "This kind of behaviour is totally unacceptable and has no place in football,"
It said that: "Corrective measures" would be made to improve the security at matches in the future.
The official charges against Russia are for crowd disturbances, racist behaviour, and setting off fireworks.
No action has been taken against the English Football Association so far.