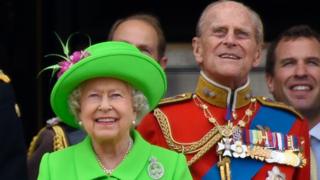 Getty Images
The Queen will be throwing a huge street party on the Mall in London as part of three days of official celebrations for her 90th birthday.
Every year the Queen celebrates two birthdays one for when she was born, and an official one.
This weekend the Queen has celebrated her official birthday with a huge parade called Trooping the Colour.
Today is 'The Patron's Lunch' where the Queen throws a big party for 10,000 people, including a picnic and a parade.
We want to know if you will be celebrating the Queen's birthday today?

This chat page is now closed
Your comments
My school had a giant picnic in our sports hall with all of the teachers and over 1000 students. It was AMAZING!
Kirsty, 12, Sandbach
We've already had our party, and it was pouring it down! However all the children enjoyed the bouncy castle. We also had to go inside for the cake competition!
Eddie, 10, Manchester
I'm going to a Village picnic with my friend.
Ella, 11, Hampshire
I'm performing in a street party in Wheatley with my theatre group.
Tillie, 11, Rowstock
You must ask your parent, teacher or guardian for permission before you send us a comment and a photo.
We may show your comment on our website or in our TV bulletins. We'll show your first name and which town you're from - but we won't use your details for anything else.