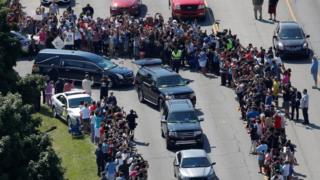 Reuters
Thousands of people have lined the streets of Louisville in America to say goodbye to Muhammad Ali.
Onlookers lining the roadside waved, took photos and chanted "Ali, Ali" as the procession drove past.
Actor Will Smith and ex-boxer Lennox Lewis are amongst many famous faces attending the funeral.
Former President of the United States, Bill Clinton, will speak at the service.
The boxing legend died last Friday aged 74. Read Newsround's guide all about who Muhammad Ali was.