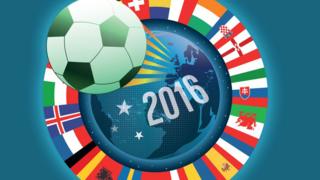 iStock
The Uefa Euro 2016 football tournament is in full swing in France!
It's one of the biggest sporting events taking place this summer.
Football teams from all over Europe will be going head-to-head to represent their country.
But which of the 24 competing countries will you be supporting, and why?!

This chat page is now closed.
Your comments
I will be supporting Germany as they have the best players ever in the Euros.
Ilyas, 11, High Wycombe
I am supporting Northern Ireland because Michael McGovern is there goalie and he's my inspiration.
Hannah, 12, Hamilton
I want Sweden to win because they are so good and that is where my mum is from.
April, 9, Manchester
I will be supporting Belgium because it's the country where I was born. I also think there are really good players like Eden Hasard.
Nael, Saint-Amand-les-Eaux, France
l am supporting Italy and Switzerland.
Jessica, 7, Wrexham
I will be supporting England! COME ON THE LIONS!
Sam, Darlington
I am supporting Belgium. Gooooooo Belgium!!!
Alexander, 11, Newcastle
I will be supporting Belguim, so come on Belgium, you can do it!
Zaina, 10, Stockport
I am supporting France because my great Grandpa is French.
Lily, 10, Watford
In school we picked countries out of a hat and if that country wins, we get a prize! I'm Poland so COME ON! I'm also supporting England because of Marcus Rashford!
Maryam, 11 Slough
I will be supporting England because our players are awesome.
Alfie, 9, Newcastle-Upon-Tyne
I will be supporting Wales. Come on you Dragons!
James, 12, Canterbury
I will be supporting Wales
George, 14, Teeside
I will be supporting Republic Of Ireland (come on u boys in green!)
Ben, 12, Northern Ireland
I will be supporting England because they have good players.
Jessica, London
We think that France will win the Tournament because of Dimitri Payet's awesome skills.
P5 from Rimbleton Primary, Scotland
I'll be supporting Portugal.
Afonso, 9, Portugal
I'm thinking that England will win it! - their front four look crazy!
Jack, 8