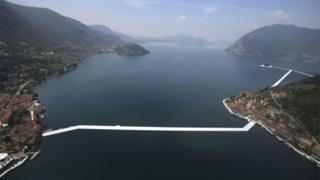 AP
Half a million people will get the chance to 'walk on water' in Italy this month.
An artist called Christo will be opening a big art project on Lake Iseo, in northern Italy, made from 220,000 plastic floating cubes.
The cubes will make a two mile-long path across the lake, and will be covered in a special yellow fabric which changes colour in the light.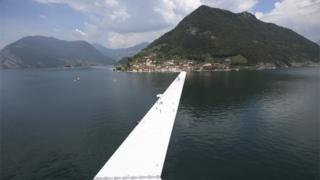 AP
The project is called 'The Floating Piers' and the the artist said it should feel like people are "walking on the back of a whale".
It took a lot of work to put the bridge together - 190 huge concrete anchors were flown in by hot air balloon then dropped into the lake to help hold the bridge together.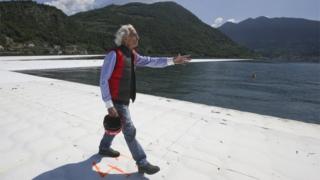 AP
The 80-year-old artist who designed the bridge has created lots a famous art sculptures in the past, in Berlin and New York.
When it officially opens, 150 volunteers and lifeguards will help out along the bridge to make sure everyone stays safe.