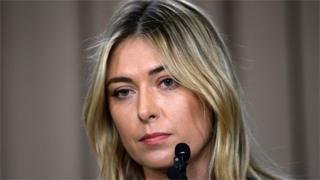 Getty Images
Maria Sharapova has been banned from playing competitive tennis for two years by the International Tennis Federation after failing a drugs test.
The former tennis world number one has said that she will appeal against the ban, which she says is "unfairly harsh".
She tested positive for meldonium, a substance she says she had been taking since 2006 to help with health issues.
The substance was not banned until the 1st of January 2016, and Sharapova says she didn't know the rules had changed.
"I did fail the test and take full responsibility for it," she said.
"I made a huge mistake. I have let my fans down and let the sport down that I have been playing since the age of four, that I love so deeply.".
Now, Sharapova says that she hopes the International Tennis Federation will change their mind about how long she's banned for, since they agreed that that she had broken the rules by accident.