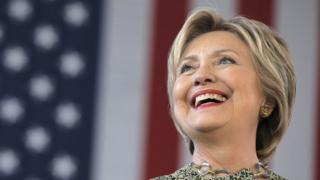 Who is Hillary Clinton?
Hillary Clinton has been officially chosen to run for US president by her political party.
She's made history because it's the first time a woman from one of America's two main parties is up for the top job.
Hillary has been nominated by the Democratic Party at a huge meeting that's happening in Philadelphia.
People in the United States will vote for their new president in November 2016.
The person they choose will make important decisions about how the US is run and how it works with other countries.
Hillary's main rival is Donald Trump, who is running for the Republican Party.
Watch Hayley's report to find out more about who Hillary Clinton is.