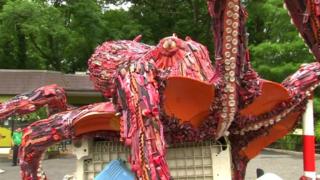 The sculptures that are totally rubbish
A collection of 17 marine animals, made of plastic washed ashore from the Pacific Ocean, have gone on display at the Smithsonian National Zoo In America.
The creators hope to teach people more about plastic pollution and how it affects the environment.
Eight million tons of plastic is dumped into the world's oceans every year.
Angela Haseltine Pozzi runs a team of volunteers who collected plastic from the Oregon coastline in America.
They wash and sort the the plastic items that have come ashore and use them to create sculptures of marine life.
The team has collected all kinds of items including flip flops, water bottles, toys, and many other items that you can find around your house.
Pozzi hopes the sculptures will start a conversation about how we use plastics.