Meet the eight-year-old who has designed a crown fit for not just any Queen - but the Queen - on her 90th birthday.
Ayesha Mahmood beat more than 11,000 competition entrants to design a special crown for the cover of the Radio Times magazine.
The cover design, features a beautiful purple and gold crown with jewels and glitter.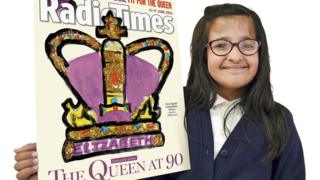 Radio Times
'Best Queen in the world'
Ayesha told Newsround that she feels: "happy, excited and really proud of myself."
In a recent interview, she also said: "I came up with the crown because the Queen normally wears crowns at special occasions, and that's why I drew the crown."
"The Queen is kind, she lives in a big house, and she's got lots of things and she's really nice. If I met her I'd tell her I think she's the best queen in the world."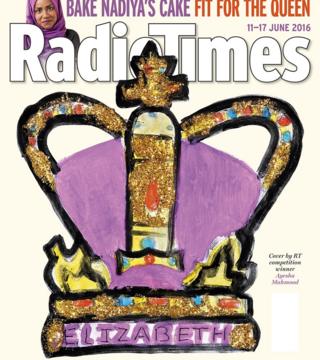 Radio Times
Author and illustrator Judith Kerr, BBC arts editor Will Gompertz, Blue Peter presenter Lindsey Russell, Radio Times Editor Ben Preston and Radio Times Art Director Shem Law were on the judging panel and all agreed on which artwork they liked best.
Judith Kerr said: "Ayesha's drawing will work brilliantly on the cover. I think the Queen would approve."
Blue Peter's Lindsey Russell added: "I wanted to find a cover that felt like a celebration - Ayesha's design really does that."