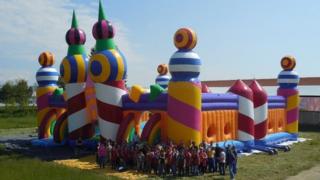 'World's biggest' bouncy castle unveiled
A bouncy castle, which is claimed to be the largest in the world, has been unveiled at a music festival.
The giant castle has been inflated in Southampton and will be used at other festivals throughout the summer.
The attraction is 23.8 metres long, 20.7 metres wide and 12.8 metres high and can be used by 100 people at the same time.
It's even claimed to be taller than the Great Wall of China.
Guinness World Records is yet to verify the record.