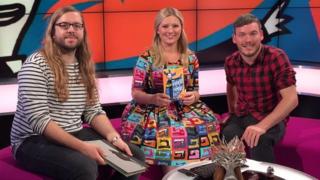 Pamela Butchart: I base characters on kids I teach
Pamela Butchart's My Head Teacher is a Vampire Rat has just won the Children's Book Award - a prize decided only by kids.
The author and school teacher she says she warns her students they could end up in her books if they're not careful!
"When in class [and] they say something, I'll be like, 'Watch it - you'll end up in one of my books!'" Pamela told Newsround.
My Head Teacher is a Vampire Rat is a story about a group of kids who decide that their new head teacher is a vampire.
They've figured it out because he is quite scary, has the blinds down in his office all day and has banned garlic bread at lunch!
Previous winners of the Children's Book Award include JK Rowling, Malorie Blackman and Michael Morpurgo, who has won it a record three times.
Watch Martin's interview with Pamela and the book's illustrator Tom Flintham.