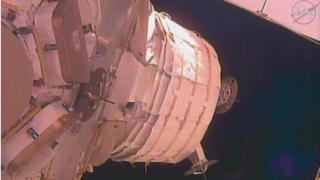 Inflatable space home hits problems
Astronauts on the International Space Station, trying to inflate a new space home, have hit a bit of a snag.
The Bigelow Expandable Activity Module, or Beam for short, hasn't blown up properly.
It's part of a two year experiment to give a more comfortable place for those on board the ISS to live and work.
Ayshah's been finding out what this means for Tim Peake and his fellow astronauts.
Pictures from Nasa