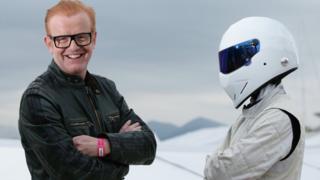 AP
Top Gear raced back to our screens on Sunday night, with a brand new set of presenters and more crazy car capers.
The new team include racing driver Sabine Schmitz, actor Matt Le Blanc and BBC 2 DJ Chris Evans.
The presenters replace Jeremy Clarkson, James May and Richard Hammond who left the show last year.
The revamped show featured the profile of a supercar and a head-to-head challenge between the presenters.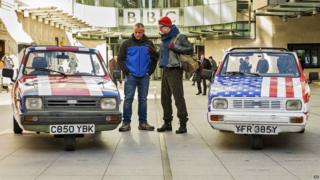 AP
Chris Evans and Matt LeBlanc drove Reliant three-wheelers from London to Blackpool, whilst actor Jesse Eisenberg and chef Gordon Ramsay tackled the Top Gear track.
4.4 million
The relaunch was watched by an average of 4.4 million people, according to viewing figures.
New host Chris Evans had earlier said he would be "disappointed" with anything fewer than five million viewers for the show's first episode.
The final Top Gear featuring former host Jeremy Clarkson attracted 5.3 million viewers last June.
We asked you to tell us what you thought of the revamped show and the new presenters.
This chat page is now closed. Thanks for all your comments.
I thought the new Top Gear was as good as the old one especially with Matt Le Blanc, because when he was in the epic Nomad he really knew how to make people laugh!
Matthew, 9, Kent
I think the 1st episode of the new Top Gear was pretty good. The new presenters have adapted the previous format to make it a car show of their own. At the moment I haven't decided who my favourite presenter is as it is still early days. I like the rally cross track for the stars in the brand new rally cross car because it is a new way to test the Stars' driving ability and it looks lots of fun. At the moment, I still think Clarkson, Hammond and May are better but after the new presenters have spent more time together, I think that they will be as fun to watch.
Bradley, 12, Gainsborough
I think that the new Top Gear isn't as great as it was and Chris needs a bit more practice on how to do things, though it was nice to have Matt on the show.
Rick, 12, Milton Keynes
I think that it's not that good because it doesn't have Jeremy Clarkson.
Archie and Basil, 10 and 7, Basingstoke
I think that the new top gear is boring.
Ben, 15, Penrith
I think the only good bit about top gear was the land rover series 1. Also they didn't roll the robin reliant over.
Ryan, 13, Milton Keynes
We think it was rubbish.
Emma, 9, Hertfordshire
FLOP GEAR!
Harriet, 10, Oxfordshire
It was really good, I really enjoyed it!
Indi, 12, Lincoln
Worst show I've ever seen. No new ideas. It's like they echoed Jeremy Clarkson.
Dottie, 12, Kent
I haven't seen it but I don't want to because I liked the old one.
Sarah, 8, Liverpool
I don't like the new gang. I like the old gang and I want them to be on the show!!!!!
Ilya, 8, Cambridge
Omg amazed.
Rhys, 10, Burnham on Sea