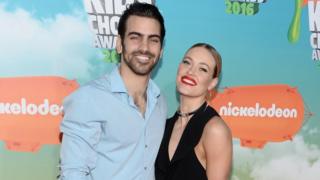 Getty Images
Nyle DiMarco has won this season of the American dancing show 'Dancing With The Stars'.
He and his dancing partner Petra Murgatroyd earned the mirror ball trophy after winning the public vote.
They also scored a perfect 30 points from the judges with their final routine which was a fusion of the cha-cha and the tango.
Nyle was born deaf, and so are his brothers, parent and grandparents.
He wanted to appear on the show to prove that "deaf people can dance".
Nyle can't hear the music, nor can he feel the vibrations of the sound when he dances. Instead he follows his dancing partner Petra's eyes to help lead him.
The winner was brought to tears when judge Carrie Ann Inaba used American Sign language to say: "thank you for showing us your beautiful heart when you dance.".