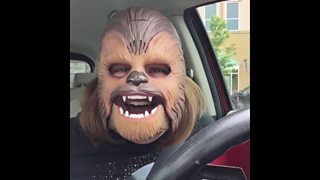 'I'm such a happy Chewbacca'
More than 50 million people have watched a US mum hysterically laughing whilst trying on a Chewbacca mask... the force is definitely with her.
Candace Payne didn't plan on buying the Chewbacca mask when she went to her local department store in Texas.
The wannabe wookie then filmed herself trying on a Chewbacca mask and became the highest viewed video on new Facebook Live video platform ever.
She doesn't even consider herself a huge Star Wars fan...