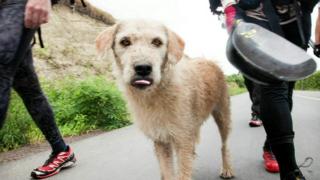 Bloopers: Arthur the dog explores TV studio
Stray dog Arthur crossed the Amazon river in South America to follow Swedish explorers who befriended him.
They adopted him and he came into the studio for a live interview with his owner who has written a book about it.
Arthur's adventurous spirit came out though, he wouldn't sit still and left the sofa to explore the studio.
Here are his best bits.