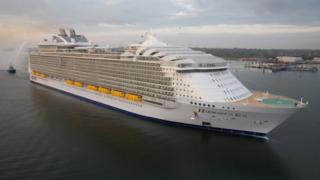 Gigantic cruise ship smashes records
Crowds have been gathering to see the world's largest cruise ship, Harmony of the Seas, at the port of Southampton.
The ship boasts an impressive 23 swimming pools, over 10,000 plants and a 10-storey high water slide. It's even staffed by robots!
The gigantic floating town has earned the title of world's largest cruise ship.
It's taken 32 months to build, and it will set off on its first cruise at the end of May.
Watch the video to take a look at some record-smashing giant vehicles from around the world...