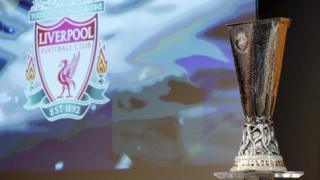 Reuters
Liverpool could be trophy winners today as they go for the Europa League title.
They're taking on defending champions Sevilla in the final at Basel in Switzerland.
Victory would mean manager Jurgen Klopp gets his first trophy since joining the club - and it'd send them into the top flight Champions League.
It would also give the Reds one over Manchester United, who look set to miss out.
Are you a Liverpool fan? We want to hear what winning the Europa League would mean to you!
This chat page is now closed, thanks for sending in your comments.

If Liverpool win I will probably make so much noise that I will wake up my little brothers!
Dara, 11, Scotland
Liverpool have a very tough game. If we win the cup I will be jubilant! I think Liverpool will win in extra time.
Kian, 10, London
Hopefully Liverpool will win - this is a huge opportunity for us to win!
Jayden, 8, Bristol
Come on the Reds! The best football team ever! The cup is ours, come on!
Oliver, 9, Stockport
I would re-do my SATs if it meant Liverpool would definitely win!
Frankie, Liverpool
It would mean the world to me!
Paige, Liverpool
I've just moved to Liverpool from London, it's a really welcoming place. It would be fantastic for the city and to have this brilliant start to the summer.
Bradley, Liverpool
It would be fantastic especially if there is a parade through the city
Harry, Liverpool
I'd be gob-smacked!
Kelsey, Liverpool
It would be a great opportunity for Liverpudlians to be seen for the fantastic football fans that they are.
Ben, Liverpool
I'll be really happy if Liverpool win. I think the score will be 4-1 to Liverpool.
Charlie, 9, Shropshire
It would be an awesome win and I think they'll do it - go Liverpool!!!
Joseph, 13, Northamptonshire
It would be great for Liverpool to win because it would boost confidence in the manager and team. I think it will be 3-0 to Liverpool
Alfie, 11, Merseyside
It would be so awesome, and I would be dancing and screaming with joy.
Chloe, 11, Liverpool
I think it would be great, because it is an amazing chance.
Anne, 8, Liverpool