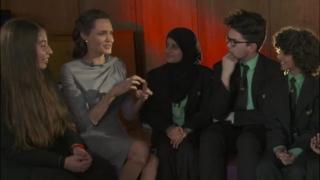 Angelina's kids give her toys for refugees
Maleficent star Angelina Jolie Pitt talks to Newsround viewers about how her kids give her toys to give out when she visits refugee camps.
She works with the United Nations, campaigning about the growing refugee and migrant crisis caused by war in places like Syria.
Angelina's family live in Hollywood, but her kids often get to travel with her and sometimes visit refugee camps with her.
If they're not travelling with her, they'll still give presents like blankets and cuddly toys to pass on to the children she meets.