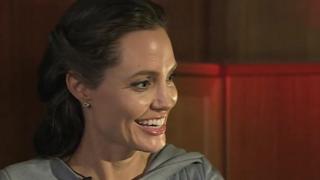 Kid to Angelina: You're less selfish than other stars
Watch the moment Angelina Jolie Pitt reacts to being asked why she is "less selfish than other celebrities" by Newsround viewer Faisal.
The Hollywood actress was questioned on what makes her focus "more time on refugees" than herself.
Angelina works with the United Nations, campaigning about the growing refugee and migrant crisis caused by war in places like Syria.
"When you can be a part of something in the world, it's a happier life," the star responded.