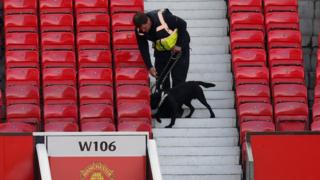 Reuters
Manchester United say they are investigating what led to the security alert that meant their game against Bournemouth was called off.
Old Trafford was evacuated shortly before kick-off on Sunday after a fake bomb was found in a toilet.
It was safely removed by experts but police and United decided to ask people to leave in case it was dangerous.
Police said it had been accidentally left behind by a company after some security training.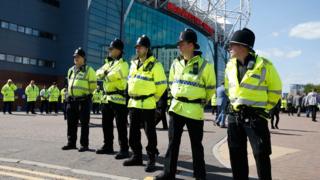 Reuters
Big venues like Old Trafford regularly run safety exercises so staff know how to respond calmly in case of emergencies.
So they do practice runs, a bit like fire drills, to make sure everyone knows what they need to do.
In this case, the prop had been left behind after an exercise to train sniffer dogs, whose job it is to check places for anything that might be harmful.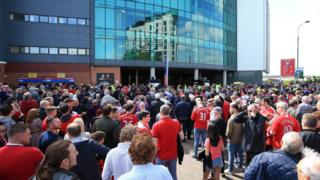 AP
Many fans were left disappointed - the game would have been both English teams' final Premier League match of the season.
The Manchester United v Bournemouth game has been rescheduled for Tuesday evening.
Fans with tickets are all getting refunds and can return to watch the match for free.