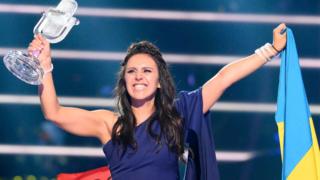 Getty Images
Ukraine's Jamala has won this year's Eurovision Song Contest in Stockholm in Sweden.
Ukraine scored 534 points, beating Australia into second place with 511 points. Russia was third with 491 points.
The UK's Joe and Jake had a disappointing night, coming third from the bottom with 62 points.
Jamala was a surprise winner of the contest, as Russia had been the hot favourite.
Collecting her trophy, she thanked Europe for their votes and said: "I really want peace and love to everyone."