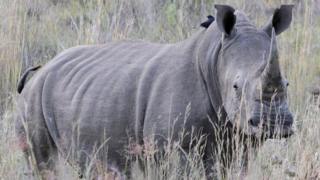 Reuters
All this week Newsround's been reporting on the fight for survival that rhino are facing.
Ayshah went to South Africa, home to the largest population of rhino in the world, but where these animals are being poached for their horns.
She met the people risking their lives to defend the species, as well as two rhino that are lucky to be alive.
How do you feel about poaching? What do you think should be done to stop it?
If rhino became extinct in your lifetime, how would it make you feel?

Thanks for your comments. This chat is now closed.
Your comments
It should be against the law to poach rhinos and should be banned.
Joseph, 13, Northamptonshire
I think it's good that we have zoos because it means we can protect rhinos.
Angel, 8, Salford
I think there should be a 24 hour watch to keep all animals safe from poachers.
PJ, 12, Ireland