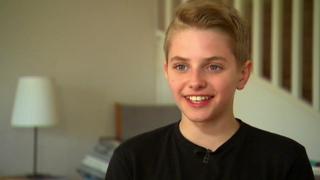 Is this Sweden's biggest Eurovision's fan?
The Eurovision Song Contest's grand final is being hosted by reigning champs, Sweden, this Saturday, and there aren't many people more excited than Oskar.
Oskar watched Eurovision for the first time when he was seven, and he's been hooked ever since.
Since then, he's watched almost all the contests since the Eurovision began, so he could barely believe it when the Swedish entry won last year.
Now, he's looking forward to being at the 2016 finals in person, and he's been talking to Swedish Newsround about why he loves the competition so much.