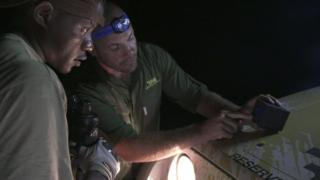 On patrol with anti-poaching squad
South Africa is home to some amazing wild animals, but poaching from wildlife reserves in Africa is a big problem.
A lot of time and money is spent trying to keep animals safe.
Rangers at Kariega Game Reserve have lots of high-tech gear to keep track of their animals and keep poachers away.
Patrols are carried out by the rangers, especially at night.
Armed with special cameras and night vision goggles, Ayshah joins the rangers as they head out in the night to keep a watch on the wildlife.