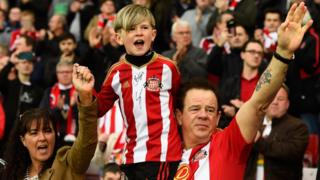 Getty Images
Sunderland fans are celebrating after a 3-0 win over Everton confirmed their place in next season's Premier League.
There was only one thing that could make the victory even sweeter for fans - the result means their local rivals Newcastle will be relegated.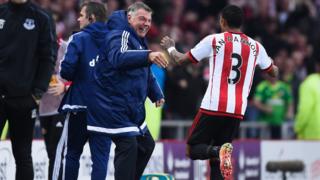 Getty Images
Sunderland's manager Sam Allardyce celebrated with his players after the final whistle went, cheered on by ecstatic supporters at Sunderland's Stadium of Light.
Although they spent most of the season in the relegation zone, Sunderland had a better run of luck since February, with only champions Leicester beating them in the last 10 games.
Norwich will join Newcastle in being relegated to the Championship next season. It's the fourth time they've been relegated in the history of the club.
Watch this video of young Newcastle fans' reactions to their side going down.