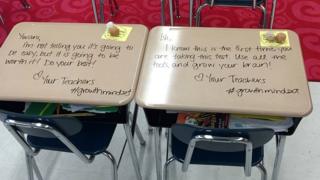 Woodbury City Public Schools
At most schools you'd get in trouble for writing on your desk, but in the US a teacher's been doing just that to get kids going during tests.
She's been writing inspirational graffiti on their tables to help them feel confident.
Mrs Langford, from Woodbury Public School in New Jersey, thought the messages could help relax and encourage her 10 and 11-year-old students during stressful exams.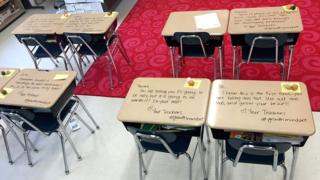 Woobury City Public Schools
One graffiti note reads, "I'm not telling you it's going to be easy, but it is going to be worth it! Do your best!".
She also gave each student a donut treat with an extra message saying, "Donut stress, take your time and do your best!".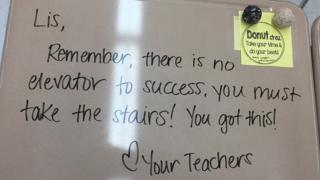 Woodbury City Public Schools
Now the pictures have gone viral.
And if you're worried that Mrs Langford might get in trouble with the head teacher for scrawling on school property then don't: the messages were written with a dry marker pen so they could be easily wiped off afterwards.