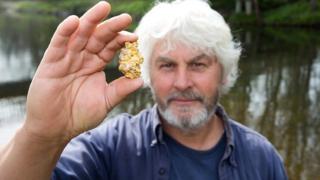 Treasure hunter finds largest gold nugget
Britain's largest ever gold nugget has been discovered off the coast of North West Wales.
Vincent Thurkettle found it four years ago but has only just revealed details.
The hunk of gold weighs 97g, the size of a small chicken egg!
The area where it was found has been searched again in case there's any more gold, because it's thought it was part of a 120 million pound collection which sank in 1859.
Vincent can't keep the gold though as it has to be put on show in a museum, but he may get a 'finder's fee.'