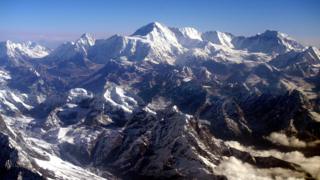 Getty Images
A Sherpa has become the first man to climb Mount Everest from the Nepali side since earthquakes devastated the area last year, according to The Nepali Mountaineering Association.
Sherpa is the name of a group of people who live in the mountains of Nepal, in Central Asia.
The word 'Sherpa' is often used to describe mountain guides in the Everest area. See our special guide here.
Hundreds of people were rescued from near Mount Everest in April 2015 when tremors from a huge earthquake caused avalanches. 19 climbers were killed in the disaster and many more were injured.
The earthquake left the mountain very difficult to climb.
But now Sherra Gyalgen Sherpa's successful climb shows that, despite the damage done during the earthquake, it is possible to reach the peak.