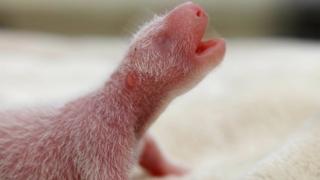 Newborn panda arrives in China
A rare giant panda cub has been born in China and he's absolutely tiny.
Nine-year-old giant panda "Ai Hin" has given birth to a male cub weighing 145 grams, which is about the same weight as an orange.
He doesn't have a name yet but he is believed to be the first newborn giant panda this year, both the mother and the baby are in good health.
The little pink panda cub was born on Friday morning in the city of Chengdu, capital of southwest China's Sichuan Province, home to the endangered species.