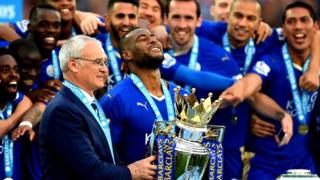 Leicester City celebrate
Leicester City have celebrated becoming Premier League champions with victory over Everton.
Captain Wes Morgan and manager Claudio Ranieri jointly lifted the Premier League trophy on a day of celebration at the King Power Stadium.
This was the Foxes' official homecoming 5 days after they won the Premier League when Tottenham failed to beat Chelsea.
It is the first title in Leicester City's 132-year existence and the greatest day in the club's history as they complete the journey from relegation outsiders to champions, all in the space of 12 months.