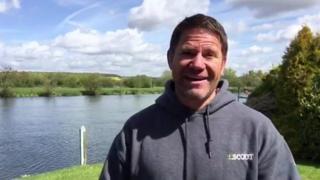 How Attenborough inspires Backshall
CBBC wildlife star Steve Backshall says Sir David Attenborough has "completely transformed my view of the wild world".
Attenborough is one of the nation's best loved presenters and he celebrates his 90th birthday this weekend.
For more than 60 years, he has travelled across the world, seen the birth of new species and even uncovered dinosaur eggs.
Steve has been telling Newsround about how the TV wildlife legend has inspired him.
"My earliest memories of Sir David Attenborough were watching his Zoo Quest series.
"[It was] my first time that I got to see unbelievable adventures like that in really exotic places. I instantly thought, 'That's amazing, that's what I want to do with my life.'"
Watch Steve's video message for his idol.