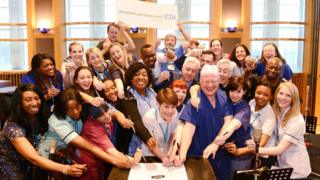 Dominic Nicholls
The NHS choir that beat Justin Bieber to Christmas number one has signed a movie deal.
The planned film will follow the stories of the Lewisham and Greenwich NHS Choir's 32 members.
It'll focus on the work they do in hospitals, as well as the choir's journey to the top of the charts.
"We're a normal bunch of people and we're really excited about what's happening," choir member Dr Katie Rogerson told BBC 5 live.
The film will be made by British film producer Julia Verdin.
She said the choir's story was "remarkable and uplifting" and had already touched the hearts of millions in the UK.
The choir reached the 2015 UK festive top spot with its charity single A Bridge Over You.
Canadian singer Justin Bieber asked his Twitter followers to back the choir in the chart race.
In April, the choir signed a record deal with the same label as Bieber. An album is being released in June.