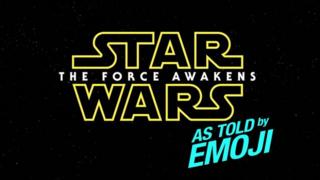 'The Force Awakens' in Emoji
Star Wars has been given an Emoji makeover.
It's part of a special series of videos made by Disney that also include new versions of Aladdin and Frozen using Emojis.
Everyone's favourite Jedi and Droids have been recreated in Emoji, from Finn and Rey to BB-8 and Kylo Ren, to tell the story of 'The Force Awakens' in a creative new way.
Have a look at the video clip to see.