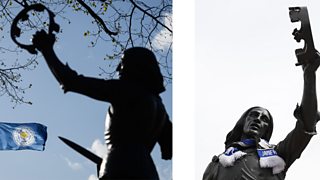 Morpurgo's Leicester football fairytale
War Horse author Michael Morpurgo has written a new fairytale to celebrate Leicester City winning the Premier League title against the odds.
The story is called Fox and the Ghost King (or Uneasy Lies The Head That Dreams The Impossible Dream).
Fans and football pundits have described Leicester's miraculous season as one of the greatest sporting stories of all time.
Get comfortable and watch Michael Morpurgo perform his magical Leicester fairytale.
Pictures courtesy of BBC Radio 4's Today programme