Leicester City have won the Premier League title in one of the greatest sporting stories of all time.
Second placed Tottenham's 2-2 draw at Chelsea on Monday meant they could no longer catch Leicester at the top of the table.
Leicester started the season as underdogs after almost being relegated the season before.
But they have lost just three league games in what has been described as a "fairytale".
Closest challengers Spurs, Arsenal, Manchester City, Manchester United and last year's champions Chelsea, have all failed to match the Foxes' consistency across the season.
It is the first time Leicester have won English football's top title in the club's 132 year history. The Foxes have also qualified for next season's Champions League group stages for the first time.
Former Leicester striker and Match of the Day presenter Gary Lineker described his hometown team's achievement as "the biggest sporting shock of my lifetime".
He told BBC Sport: "I can't think of anything that surpasses it in sporting history. It is difficult to put over in words.
"I got emotional. It was hard to breathe. I was a season ticket holder from the age of seven. This is actually impossible."
After Leicester drew 1-1 at Manchester United on Sunday, Tottenham needed to win all three of their remaining league games to catch the Foxes.
But their title hopes were ended when they lost a 2-0 lead to only draw at London rivals Chelsea.
Match of the Day pundit and former England striker Alan Shearer said Leicester's achievement was "the biggest thing ever in football".
Shearer, who won the Premier League in 1995 with Blackburn, told BBC Sport: "For a team like Leicester to come and take the giants on with their wealth and experience - not only take them on but to beat them - I think it's the biggest thing to happen in football."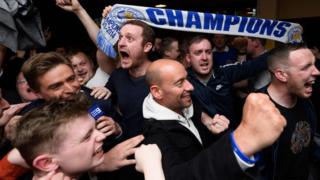 Getty Images
Even Prime MinisterDavid Cameron passed on his congratulations, saying it was "an extraordinary, thoroughly deserved, Premier League title".
Sports data experts say Leicester could get a £150 million boost for winning the title, coming from Premier League prize money, Champions League participation cash, and increased match-day sales.
A team of bargain buys and cast-offs
Leicester's story is symbolised by 29-year-old striker Jamie Vardy. Released by Sheffield Wednesday at 16 for being too small, he rose through non-league football until Leicester paid Fleetwood Town £1 million for him in 2012.
He is now an England international, second in the Premier League's scoring charts this season and was named the Football Writers' Association Footballer of the Year on Monday.
Meanwhile, Professional Footballers' Association Player of the Year Riyad Mahrez, 25, was bought for just £400,000 from French second-tier side Le Havre in January 2014.
Only 14 players have made more than a dozen league appearances and Ranieri's preferred starting 11 cost an estimated £22 million - that's 10 times less than what is arguably big-spending Manchester City's first-choice line-up.