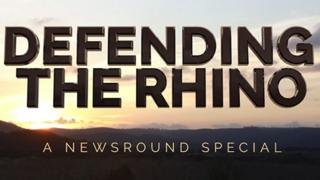 First look at Defending the Rhino special
Newsround's travelled thousands of miles to look at the fight that rhino are facing in South Africa.
It's home to the largest population of rhino in the world, but poaching is driving these amazing creatures to the brink of extinction.
They're hunted illegally so that poachers can sell their horns, which are worth more gram-for-gram than diamonds and gold.
Ayshah meets the people risking their lives to defend the species, as well as two rhino that are lucky to be alive.
Here's your first look at Defending the Rhino: A Newsround Special.
You can watch the full film on Wednesday 11 May on CBBC.