The Foxes have gone and done it - they are the new Premier League champions.
Second placed Tottenham's 2-2 draw at Chelsea on Monday meant they could not catch Leicester at the top of the table anymore.
Leicester City's rise to the top is one of the greatest sporting stories of all time.
They were bottom of the league just over a year ago and nobody thought becoming champions would be possible.
Your photos, videos and comments
I think Leicester did an amazing job!
Joshua, Leicester, England
I think they're doing great- keep it up!
Oscar, Leicester, England
We are fearless!
Lennon, Leicester, England
Congratulations for winning the Premier League! We think you worked really well as a team and you've achieved something amazing! Well done to Ranieri for being a good manager. No-one can beat you now! Your fancy footwork has been terrific to watch. Hope you win next season too! We will always support you.
2JC at Richmond Primary School, Hinckley, England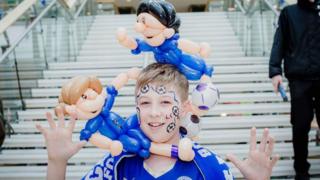 Well done for the effort, you are fantastic!
Abigail, Cumbria, England
Well done Leicester! You've made the impossible possible! This will go down in history as one of the greatest football events ever!
Charlie, London, England
Our Year 5 class would like to say a massive well done to Leicester City for making the nation proud in their win on Monday. It has made us believe that if you want something hard enough you will be determined to succeed and you can achieve....dream, believe, achieve!
Mrs Grady, Mrs Clayton and Year 5, Reevy Hill Primary School, Bradford, England
Well done for winning the league. I hope you are proud of yourselves. Good work!
Rebecca, Cumbria, England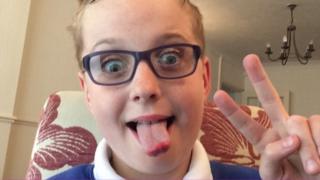 Well done to Leicester! My team my entire life! Champions!
Morgan, Milton Keynes, England
My favourite player is Jamie Vardy because he scores lots of goals for the team. I'm proud that my home team has won! I will celebrate with my friends at school.
Evelyn, Husbands Bosworth, England
Leicester have done a great job. I can't believe they've done it.
Lennon N, Leicester, England
We are fearless!
Finn, Leicester, England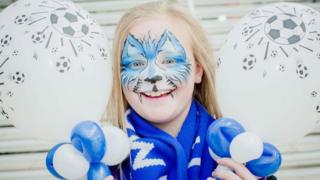 Congratulations I am so happy for you. You must be so happy!
Alfred, United Kingdom
Good work!
Amy, Cumbria, England
Well done, you came from the bottom to the top. You definitely deserved it. It was brilliant with that comeback, Leicester was going to win with all the might you had. Well done Jamie Vardy for breaking the record with scoring in 11 matches in a row. Your manager did a lot of hard work too! I don't support Leicester, but I was really glad you won. Wahey you are the champions! Keep your manager he is very good. You deserved it! WELL DONE AND HAVE A GOOD CELEBRATION!
Karson, Blackpool, England
We are happy for you!
Konrad, Cumbria, England
Leicester played fair.
Sydney, Leicester, England
Well done to Leicester, it's a dream come true!
David, Leicester, England
This chat page is now closed. Thanks for all of your messages.