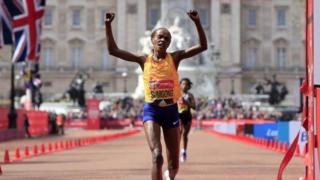 Jemima Sumgong wins marathon despite fall
Jemima Sumgong won the elite women's race in the London marathon, despite falling over.
The Kenyan athlete was in the top group of runners when she was accidently tripped by fellow athlete Aselefech Mergia as they approached a water station.
Despite banging her head when she fell over, Jemima got back up again and managed to win the race,
She finished in a time of two hours 22 minutes 58 seconds.
In the Men's Elite race Kenyan athlete Eliud Kipchoge, won in 2:03:04, seven seconds outside the world record - the second-fastest marathon in history!
Marcel Hug of Switzerland won the men's wheelchair race ahead of Britain's Paralympic champion David Weir, who came third.
American Tatyana McFadden won the women's wheelchair race for the fourth year in a row.