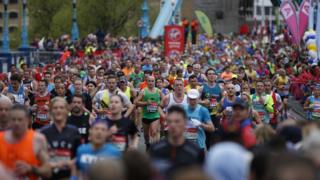 Getty Images
The London Marathon is kicking off today with thousands of runners joining in to raise money for charity.
The epic marathon has taken place in London every year since it started in 1981.
The course is gruelling 26.2 miles long, and this year 39,698 runners are expected to set off from the starting line.
Even astronaut Tim Peake will be joining in from on board the International Space Station.
Since it started the race has raised more than £770 million for charities.
We want to hear your good luck messages for the runners taking part!

This chat page is now closed, thank you for sending in your comments.
Your comments
Good luck to our deputy head teacher Mr Dean!
Francesca, 6, Nottingham
Well done Mr McKinley!
Class RM, Rose Court school, Leeds
Good luck Mrs Reid, we are all so proud!
Martha, 9, Glasgow
Good Luck Daddy on your 1st Marathon!
Ben and Daniel, 8 and 7, Warrington
Good luck to my Uncle Matt!
Hannah, 8, Earls Barton
Wishing my Mums' friends son Anosh good luck !!
Nighat, 13, Sheffield
Good Luck to Tim Peake, who is taking part from space!
Abbie, 10, Mansfield
Good luck to our lovely friend Will. He's raised £21000 and is our hero!
Erin, 10, Hereford
I hope that Kayleigh finishes the race today. We are watching you all the way! Can't wait to see your medal!
Gabriel, 10, Sussex
Good luck to Sarah and Andy!
Laura, 9, Stowmarket
Good luck Mrs Gostelow from Sian and the rest of your class!
Sian, 8, Lincolnshire
Good luck Uncle Barry!
Emilee, 10, Surrey
My Dad is running for children with cancer and we are all very proud.
Isobel, 9, Chorlton
Good luck Ryan we are watching out for you!
Luke, 14, Liverpool
Good luck to Kayleigh who has raised over £10,000 for 5 amazing charities, running her first marathon today! You're our 1 in a million!
Bailey, 11, East Sussex
Go Anya! You can do it! We are with you every step of the way! Good luck!
Zaranne, 12, Norfolk
Huge good luck to my father running today!
Meg and Gracie, 13, Llanelli
Good luck auntie Helen!
Isabel, 7, London
Keep going Mr Lee, year one are behind you all the way!!!
Molly, 6, Leamington Spa
My teacher Mrs Hirons - me and Neve wish her the best of luck!
Mia, 11, Bromsgrove
Good luck to Ben!
Ruslan, 14, London
My good luck message for the London marathon people is good luck! You can do it! - I know you can! Good luck.
Joseph, 13, Northamptonshire
Good luck to my best friend Emma's dad doing the London Marathon today!
Brooke, 10, Scotland
Good luck Mr Byrne, Joe and Danny!!!
Daisy, 11, Rotherhithe
Good luck Becky Doyle!
Poppy, 7, Solihull
My P.E. Teacher, Mrs Williams, is doing the London marathon and I wish her all the luck in the world!
Finn, 9, Whitley Bay
I want to say good luck to everyone and have lots of fun!
Emma, 11, Buckinghamshire
Good luck to my Dad Nick. Make sure you beat your friends, and have a great time!
Finn, 9, Pontypridd
Good luck to Mrs Davies and Mr Hunter today for the London Marathon! You are pretty cool teachers as it is head teacher vs deputy good luck! I am watching you on the app tracker.
Macy, 11, Swansea
My mum is doing the London marathon and I hope it goes well.
Alexander, 9, London
Good luck Mr Crockett!
Mylan, 10, Bushey
Good luck to my best friend's mum Gloria! She has been training for ages and I hope she does well!
Amelia, 12, Romford