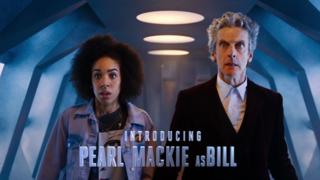 New Doctor Who companion revealed
Pearl Mackie has been named as the brand new Doctor Who companion!
The actress will play a character called 'Bill' in series ten.
"I'm incredibly excited to be joining the Doctor Who family," she said. "I couldn't be prouder to call the Tardis my home."
Pearl said her new character "Bill" was "wicked", describing her as "cool, strong, sharp, a little bit vulnerable with a bit of geekiness thrown in".
The announcement was made during half-time of the FA Cup semi-final match between Everton and Manchester United.
Available to UK users only